The holiday season is upon us.  You may be wondering how you can save a little extra on your energy and heating bills, whether you're traveling or hosting family.  Here are a few tips from Wilson Brothers to help you keep a few extra dollars in your pocket this holiday season.
Hosting:
While hosting guests at your house you may feel the need to crank up the heat for them.  The opposite is actually true.  Before guests arrive in your home, drop your thermostat by 2 degrees and allow your guests to "naturally" heat your home.
Turn down or turn off the heat in the kitchen.  You're likely to have the stove and oven cranked all day.  Consider turning off or turning down the heat in your kitchen.  Let your food prep help to heat your home and this will also keep you more comfortable while cooking.  Once you're done cooking, open your oven door and let the heat of the oven out (if it's safe to do so, be careful of pets and little ones).  This heat will keep your kitchen warm for additional time after dinner.
Burn smartly.  If you plan to have a fire or run your wood stove, turn down that heat! The fire is fueled by the air in the room, so once the flame is out, your furnace works overtime to replace that warm air.
Make your thermostat work for you.  Programmable thermostats are your best friend all year long, but can be especially helpful during the holidays.  Program it to be lower when no one is home and when you're asleep.
Use the sun wisely.  Open your shades on the windows that get sun.  You'll be amazed as to how much this can warm up your home!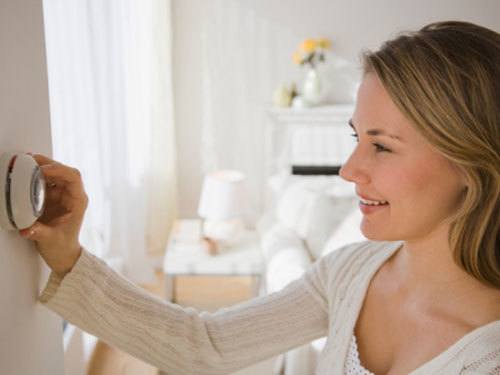 Traveling:
Thermal curtains and insulation.  While you're planning to be away, your house won't be inhabited so it will make it more difficult to keep it warm.  By insulating doors, drafts and leaks in your system before you leave, you'll keep your empty home warmer and more efficient.
Turn down that hot water heater.  If no one is home, you're hot water won't be running.  Turn your hot water heater down to low or "vacation mode".  Just remember to turn it back up when you return and a few hours before you jump in the shower.
Turn down your thermostat but not too much.  We live in New England, we know storms, power outages and sudden cold snaps happen. Turn your thermostat down to 58-60 degrees.  This will keep your house warm enough to prevent pipes from freezing.
Have a neighbor keep an eye out.  If the weather is expected to make a turn for the worse while you're away, have a neighbor turn your heat up in case of a power outage.
Turn off all space heaters.  This is the number one cause of fires during the winter.  Leaving a space heater on while you're away can result in your home being a lump of coal when you return.
Have a happy and safe holiday from all of us at Wilson Brothers!