Reviews
Your comfort is not just a product of our work, but also the purpose of our work. We truly value your comments and feedback. If you would like to send us a testimonial or have questions or concerns, please email us at feedback@wilsonbrothers.com.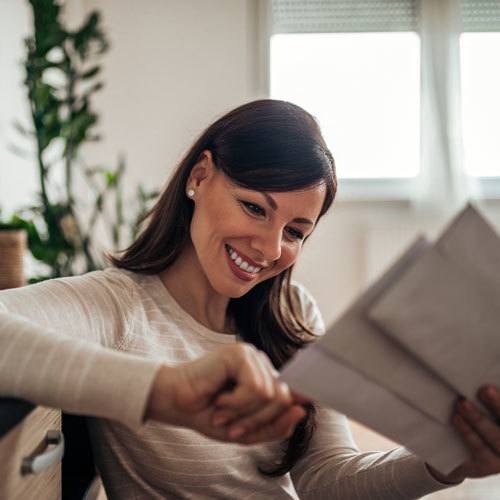 How are we doing? Send your feedback to us or post a testimonial to Google.

Here are some of the testimonials that our customers have sent us recently:
Excellent job on our furnace. Professional, courteous and thoughtful. Calling before arrival (which was a little early). Careful of distancing and wore a mask all the time. Fee for service was reasonable. 5 stars!
Dorothy Zale
Groton, MA
We can't tell you how pleased we are with the job that Wilson Brothers did installing our new furnace. Nate, Zach and Ashton were here on time, very polite, very knowledgeable, and thorough. My cellar was left cleaner than it was when they got here. It is so comforting to know we have a reliable system in the house and we can call on Wilson Brothers if we ever need service. Thank you so much.
Dave and Jackie Clericuzio
Hello, we just wanted to boast for an employee of yours. Sorry we don't recall his name though.
He made a house call for our mini split unit this past week. He was very professional, knew what he was doing, had gloves and mask on and the unit was repaired in no time.
We are comfortable once again and wanted to express our thanks and appreciation for a job well done.
Everyone has busy lives these days, it's nice to know that good employees still exist and want to do a good job for their customers.
Gary and Angel Blaisdell
Everyone and everything associated with the installation was a very positive experience. I went from being tense and scared about having to replace my heating system to confident and reassured, thanks.
The young man who installed the system was excellent and professional. He was very knowledgeable about the system and explained it so we could understand. Great young man.
John Jamieson
After getting four quotes from other vendors, all within the same ballpark figures, we went with Wilson Bros Heating and AC based on their professional customer service and thoroughness while giving us a quote on a new boiler and central air conditioner replacement. We liked Norm very much after his visit and his quote had everything spelled out right down to the warranties and rebates. We received the $200.00 rebate within a week after the install. The guys that did our installation were professional and respectful especially during this Pandemic. It was an unusually hot and humid couple of days when they arrived and everyone one of them kept those masks on. They worked tirelessly with no complaints, and without any breaks the last day. The staff at the front office were friendly, helpful and easy to work with. I knew exactly what the bill amount was, when it was due and I loved the payment set-ups in three installments. Wilson Bros not only did a great job but they've won our business in providing us oil heat. Paul, Tom And John, please know what a great staff you have because it is truly a reflection on you! We're going to be a loyal customer for a long time.
Donna L.
HAD MY FIRST SERVICE ON THE FURNACE. THE WILSON BROTHERS TECHNICIAN WAS POLITE, AND VERY PROFESSIONAL. GREAT FIRST IMPRESSION.
JAMES HANLON
Hi Junie,
I'm writing to you and the Wilson Brothers, with a note of appreciation for your service.
Also I need to mention so it can be passed along to the Brothers just how fortunate they are to have such an incredible service person (Phil) . His workmanship is superior along with outstanding people skills and personality. I would trust him with my home in a second….
It is a gift when someone like Phil is servicing my home in manner he chooses to operate.
Please pass this note along….Phil makes the Wilson Brothers name look real good!!!
Than you again,
Extremely happy customer……
Gerry
Nate Wilson was awesome and also his team. Very nice guys to have in my home. Considerate and polite. Nate explained everything to me, being newly widowed and I needed to learn a lot! He even fixed my toilet he noticed needed a little repair. Would absolutely recommend Wilson Bros!
Robie Derome
Wow you guys are awesome!! Best service. Great experience and fixed the problem. Bye bye Nashoba Air
Matt Hall
Thank you and your associates for the very professional way the whole process of installation was carried out. Everyone from Norm to the person who checked that it all worked did a great job.
Tony Lawrence
I'm so grateful to Brennan O'Connell for making my AC service visit so complete, careful, and respectful.
He made sure to spend as little time as possible in my condo, and then spent a great deal of time outside checking and cleaning my AC condenser.
I really appreciated all the work he did and how he handled the appointment.
Carol Gordon
Great AC Service Tune Up on a very hot May 2020 day done by Brennan (& Ethan last year). Brennan followed all smart COVID-19 protocols perfectly. His work was thorough & professional. Wilson Bros. has never let me done. Good Customer focus is the key to their success. Way to go.
Joseph M.
I've been a new home owner for not even a month and have already had to deal with plumbing issues and hot water tank issues. For my hot water tank issue I called Wilson Brothers and was more than impressed with their quality of service. My house didn't have any hot water (this was during the covid era when everyone was home) so I called their service number and soon enough they sent a guy over immediately to come fix it. He came fully prepared, with a mask, and was there for just over an hour. He walked me thru what could have caused it, repaired it, tested it, and made sure to instruct me on what I need to do if it happens again. I learned more in that 1 hour about hot water tanks than I have in my 29 years of living lol. I'll absolutely be calling them again if & when my hot water tank, AC, or heating system breaks.
D. R.
We experienced a gas leak Saturday night and National Grid shut off our gas and told us to call a repairman. Sunday morning of a holiday weekend I called Wilson's. I received a quick call back from Phil. We were without heat or hot water but figured we could limp through until Tuesday if need be. He told me he would come out and see what he could do. He initially thought he could get the heat and hot water going and come back later in the week to get the dryer and stove running. I was thrilled with that idea. But no he went above and beyond and got everything working for us that Sunday afternoon! He was very pleasant, personable and hard working. We have been a customer for quite a while and will continue to be with this level of professionalism. Thank you Phil for spending a gorgeous Sunday getting us back up and running!
Janet Schulz
Nate, Brian and Gath Electric did a very professional install. Neat, tight and attention to details from start to finish. Given the current work environment, they handled the corona restraints with great caution and attention. In addition, I would commend Michele and Cheryl to the attention to logistics and financial details. Stay well and prosper.
John and Laurie Blagdon
I am so happy I have become a Wilson Brother's customer. I have had all great service with everyone I encounter and look forward to the future. Hoping everyone and their families are doing well.
Penny
You have now done 3 major projects for me and I've been very pleased with your people and professionalism.
Stan Langer
The men were professional, respectful, and cleaned up. I was totally impressed with your company!
Patricia Garrison
Just want you to know my experience with Wilson was better than excellent, it was OUTSTANDING! Josh and Phil are the best !!! It gives me such a sense of security to know I can call on Wilson whenever I have a problem.
Joanne
Hello,
I just wanted to take a moment to comment on the service we received on September 23, 2019. The customer service provided from the point of contact until the end of service was SUPERLATIVE. I would like to specifically mention Brennan. This young man was so professional and thorough. It is my opinion that he is a great asset to your company. He was very knowledgeable about his trade and his communication skills were extraordinary. What a pleasure to have him doing the job! I was very impressed by his efficiency and professionalism. Thank you so much for a wonderful experience.
Stefani Lagimoniere
Dear Manager:
I am writing to let you know of my complete satisfaction with my recent gas furnace and water heater installation. From Norm's first visit to provide an estimate for me, Eric's planning visit, and finally the professional work done by installers Connor and Brian, everything fell into place and schedules were completed on time. In particular, Connor and Brian, who spent the most time at my house, were very efficient with their time and accommodated every request of mine. Their final design and installation is a credit to their skills.
It was a welcome relief to have such a major project proceed without any delays or problems. I will be recommending your company to family and friends.
Paul Przybyla
Even the little jobs, little guys matter at Wilson Bros.
Just had Wilson Bros (Ethan) come in & do my proactive Summer season AC Tune Up. Ethan was on-time, polite, clean, & professional. All set for a cool season. Good Job all over. I am a satisfied Customer.
Nashua, NH
Wilson Bros exceeded all three P's a customer expects when searching for an oil burner replacement company. These P's are Price, Performance, and Professionalism. They were priced better than the other two competitors. The oil burner they recommended and installed was of higher quality and they found a rebate that the other two competitive quotes missed (this was a savings of $775!). Also, the per gallon cost of the oil I am now paying is less than before, and they gave a discount for auto delivery. The install team did an awesome job. I am a nit picker when it comes to cleanliness and attention to detail. I must admit I was a bit nervous when I saw the youth of the install team, but they hit the ball out of the park. The solder joints, re-piping, and layout were spot on. I received several follow up calls from Wilson Bros after the install and I couldn't be happier. In addition, the auto delivery service has been excellent. I no longer have to call to inquire when the truck is coming (even though I was under an auto program) from our previous oil supplier. I have waited 4 months to post this and have had no problems whatsoever with the furnace and oil delivery since that time. Great job and kudos to Norm, Michele, and team!
Gary B.
If you are considering any HVAC project, I would strongly recommend Wilson Brothers of Pepperell, MA. Whether you are a business owner, HVAC-responsible manager or homeowner, you should absolutely put Wilson Brothers at the very top of your selection. In my opinion, they are the thoroughbreds in the crowded and competitive Heating and air conditioning industry.
Wilson Bros is a company which practices the way any business ought to be run. After many years' experience in which we have hired every kind of contractor imaginable, Wilson Brothers is, by far, is the cream of the crop when it comes to business integrity and client satisfaction. Recently, we had a major HVAC project to replace a furnace, air conditioner, water heater and health recommended humidity control. The project came with seemingly endless list of engineering complexities including gas, electrical, water, physical space limitations, you name it. But Wilson Brothers has every knowledge credential in every aspect of the HVAC systems. They kept all schedule time, were extremely neat and polite and they worked with the upmost attention to every detail. When each phase was completed, they took the time to thoroughly explain and train us on any future adjustments that come down the road. Needless to say, I am extremely pleased with the finished product and very happy to recommend them.
Paul Cormier
I just want to thank you for all the excellent support..we had no idea what we were doing here when we started this. Its lucky we found Wilson Brothers..this would not have been a job for just anyone. You have answered our calls and emails, some dumb questions, some questions we weren't even sure what we were asking. All the way you guys have patiently walked us through, helped us make decisions and educated us. I think it may be lucky we were naive, otherwise I would have run the other way. But with you guys helping us, we have put together what will be an awesome house that is warm and safe! We love that place and we just want to thank you for helping us make it what we imagined it could be. Make sure you tell everyone there that when anyone asks us who the pros are for heat, AC, plumbing and electric we will always tell them Wilson Brothers is the only place to call. 👍
Jay
Hi Michele — thanks for following up. While reviewing the proposal from Norm, Wilson Bros sent out a tech to take a look at our current heater. He was great and determined that it could be fixed by simply replacing and cleaning up debris from an old anode. No leaks since then.
I just want to say that out of the companies that I contacted, you guys were the most helpful and responsive. We'll be sure to call Wilson Bros. for future maintenance and when we do need to replace our current water heater.
Joe
Thanks for all you have done Michele. It's very much appreciated. Everyone there has been top notch from Norm to the install team and yourself…and Norm's recommendation of Roberto as well.
Gary
The installation crew was great. I have never seen so many tools or parts in my life. Jane and I are delighted to have heat and hot water again. Thank you to everyone at Wilson Bros. for making this happen. See you in a few months for the A.C. Install.
John & Jane O'Neal
Hello,
Just a quick note of thank for the attention and services provided by your team in the replacement of my hot water heater. Everyone took care in moving the process along; from the moment the old heater burst to the new unit's installation. I've been a Wilson Brothers customer for around 15 years now. Given this most recent episode, it's no wonder why.
Thanks, again,
Kevin Crossley
I'm a brand new customer I called this morning and spoke to Amy and explained the problem and Josh was at my home with in less then and hour and found the problem had it fixed within 20 min. I am so grateful Thank you Amy & Josh!
Maryellen Brunelle
Obviously, Scott should get a pat on the back. It was his last week back from surgery and he did great and guided Conner very well. Conner had great manners, good kid.
Joe MacIntyre
Nashua, NH
Dear Nate, Cheryl and Wilson Brothers Team,
You did a clean, professional and courteous job with our boiler replacement this week! Of course, we expected no less based on our superb experience with Wilson Brothers last year for our ductless air conditioning installation.
Thank you for an excellent experience all around, from the office to the field teams. This speaks not only to the impeccable character of each individual, but indicates the presence of a strong customer-centric culture throughout Wilson Brothers. We had already mentioned to neighbors and friends that they should give you a call for HVAC jobs, and will continue to do so in the future.
Lance and Hena
Everyone we dealt with that day was great! This is the best company we've worked with in a very long time.
Heather Gerteisen
Dunstable, MA
Thanks so much! You guys rock! Derrick and the install team were awesome. Paul, Eric, Nate, Cheryl, yourself, and anyone else I missed were all great. It was a pleasure to work with you throughout the whole process. Feel free to use me as a reference at any time. It was a pleasure doing business with you. If you need me to put anything up online let me know. I will gladly show my endorsement. You guys are true pros!!
Kevin Whiffin
Tom,
Just a quick note to let you know that the technician you dispatched to service my furnace and my AC did an outstanding job.
My father owned a plumbing and heating business so I can recognize quality service when I receive it.
Your tech covered all the points with both my furnace and the AC. And as a plus, he is an excellent communicator and represents your company well.
Thought you might want to know.
JR Theriault
Harvard, MA
This is a short note to thank you for getting our furnace back on line so quickly. Joe Patterson came out and looked at it yesterday and determined that the blower had failed. We greatly appreciate the hustle from various folks at Wilson Brothers including Joe and Amy to get us back with heat before the weekend.
Alex Rosiewicz
Wilson Brothers is a great company. Every service person they have sent to us has been terrific. Tonight we had no heat Joe Patterson bailed us out. He solved a difficult problem with our furnace. Great guy. Thanks to Pam for setting the appointment up.
Customer from Concord, MA
We are very happy with how this project as worked out and with the work done. In all aspects, sales; installation, office support the Wilson team was professional and committed to customer satisfaction and quality work. Having had such a bad experience in the past with different HVAC contractors, it was refreshing to find that all is not lost and there are still companies out there committed to excellence. Traci and I sincerely think you for a job well done.
Don Post
Thank you, thank you for saving our sanity! The Thursday morning phone call to say the AC was under warranty was better than winning the lottery! We appreciate your excellent service over the last 12 years. We hope the new family will use Wilson Brothers if necessary.
Mack & Ann Hussey
From the sales rep to the office staff, layout inspector, HVAC technicians and electrician: all provided exceptional, professional service. You can be proud of your employees.
Virginia Robertson
Ayer, MA
I am sending this note to express my sincerest appreciation to you and your staff for a job well done. Today when I awoke, my home had no heat and was quite cold. I called your office early and spoke with Amy. She made me feel so good with her kind demeanor and welcoming way. She scheduled a technician for an early morning appointment for us.
When our technician came (PJ), he was just as nice as Amy. He explained everything he was doing to help get heat. He was outstanding!!
Please extend my appreciation to your staff and thank you for employing such wonderful people. I will definitely be calling Wilson Brothers for any future needs.
Debra A. Butcher
Pepperell, MA
"I want to say thank you to Doug and Amy for a job very well done. I had no heat and it was 12 degrees outside! Doug worked diligently to diagnose, find parts, and repair my furnace, while Amy coordinated the repair schedule with the schedule of my family. Our goal that day was to get heat and Wilson Brothers did that for my family. Thanks again."
Jeffrey W.
Hollis NH
"To the wonderful staff at Wilson Brothers: I am extremely happy with my new furnace. Al and Joe did a fine job installing the furnace and cleaning up after. They were very efficient and answered all my questions. Also… the ladies in the office were always informative and never rushed. Every time I called the office, I got a very pleasant voice on the line. Thank you all very much."
Rebecca H.
Shirley MA
"I want to thank you and your team at Wilson Brothers for the outstanding job they did in converting our old oil furnace to a new high-efficiency gas furnace. Eric, Derek and Nathan were extremely professional and left our basement spotless. They addressed every question I had (there were a lot) and took the time to explain what was going on. The office team was fantastic as well: Norm, Amy, Dawn, and Kim! Great teamwork all!"
Del S.
Westford MA
"We had two heat pump units installed along with a humidifier. The crew was excellent; they arrived on schedule with minimal disruption. The project took four days and each day before they left, they made sure all work areas were immaculate. Their work effort was professional and courteous. They answered any questions I had and if they didn't know, they found out and got back to me. Bottom line: great customer focus and a happy, satisfied customer."
Ed and Jo C.
Groton MA
"Thank you Wilson Brothers! Everything from my initial call to running my new system was an exceptional experience. Everyone from Cheryl in the office to Norm in sales … to Eric and Doug and Paul were very pleasant and professional. It was a rainy day and the installation crew took the time to put tarps down to keep the indoor areas clean. Our neighbors just had a new system installed and they highly recommended Wilson Brothers. We are glad they did!"
Lorraine B.
Chelmsford MA
"I spent a lot of time comparing products, companies, and prices and finally chose Wilson Brothers. Tom Wilson came to my home and demonstrated that he had knowledge of of the product and my specific needs. Other companies spent way too much time telling me how wonderful they were. Norm also was knowledgeable, confident, and very pleasant. Most impressive were the ladies on the phone. Tjhey were eager to help and didn't waffle about procedures to get my project underway. Even your quote was presented the most professionally, right down to the stationery – I noticed it! Finally, I found many positive reviews on Angie's List."
Debbi O.
Amherst NH
"Thank you for installing our new AC unit so efficiently. I am so impressed that both Tom and Paul stopped by to look over the job before sending out a crew and I appreciate the time they spent educating me on our new system. We were referred to Wilson Brothers by a friend and it was a solid recommendation – our experience with you has been nothing but positive."
Jack S.
Pepperell MA
"The crew was very courteous, kind, and excellent to work with! Everyone was super in helping me get heat!"
Vanessa McD
Heating System Repair, Pepperell MA
"The oil to gas conversion you guys did on my house has worked out great! The installers were true professionals and the system has not skipped a beat since installation. … we had the new building inspector over for some electrical work done for solar panels and he got sidetracked looking at the new heating system. He was extremely impressed with the quality of the work you guys did installing my boiler and the plumbing for the heating zones. Having the inspector comment on it says a lot."
Keith and Kristen A.
Oil to Gas Conversion in Lunenburg, MA
"Pete Farnsworth was very patient and willing to answer questions regarding our new heating system. (He was) very knowledgeable and easy to talk to. Paul and Norm also helped us and both were wonderful!"
Sally O.
Heating System Repair & Installation, Westford MA
"Wilson Bros. just replaced our complete HVAC system (2 furnaces and 2 AC units) under a MassSave heat loan program. Very professional and excellent to work with. Their bid was very competitive. They helped us secure all the paperwork required for the MassSave program and with the various utility rebates after the installation. Once scheduled, the installation went smoothly and the work quality was excellent. A couple of minor problems found after the installation were quickly corrected. Highly recommended."
Marty Jenson
HVAC Replacement, Central MA
"Wilson Brothers: Thank you for the excellent service … from the installers to Lynne and Dawn in the office who were such a big help. I guess it's silly to see your faithful old furnace retired, but I admit the new system looks great and the installers were very professional and did a great clean up before they left. "
Betty B.
Heating System Installation/Replacement, Ayer, MA
"Besides meeting with the owner, we met four Wilson Brothers employees. Wilson Brothers is lucky to have them!"
Lou G.
HVAC Service, Carlisle MA
"Cliff and Al: Don't lose them as employees!"
Roger B.
HVAC Service, Townsend MA
"Very neat installation! I have nothing but praise for the two technicians who did the installation at my home. You should be proud of your employees!"
Boiler Repair
Furnace Installation, Concord MA
"Eric and Derek were polite, friendly, and professional. The install is a work of art!! Performance is exceeding expectations."
Thomas and Julie D.
Pepperell MA
"We are extremely happy with everyone's professionalism and knowledge at Wilson Brothers. We were frantic when we lost heat during a very cold spell this winter. You all went above and beyond to help us out and we weren't even existing customers! Thank you for being responsive and responsible (all employees)."
Donna and Ken S.
Westford MA
"Wilson Brothers Heating and Air Conditioning installed two heat pump units and a humidifier. The crew that did the majority of the install was excellent; they arrived on schedule with minimal disruption during their workday. For four days they used our garage for work space and storage and also worked in the attic, basement, and outside. Each day before they left they made sure all work areas were immaculate. They were professional and courteous. They answered any questions I had and if they didn't know, they found out and got back to me. Paul spent a lot of time with me answering questions and going through hands-on operational tests. He made sure I understood how all the units worked, including thermostats and the humidity unit. I really appreciated that. But most important, Paul liked my dog and my dog liked him!"
Ed B. and Joanne C.
Groton MA
"I have been experiencing the new environment in our house for several days since the installation of seven Mitsubishi Mr. Slim cooling/heating units on August 8. Sheree and I want to thank you for your excellent service in surveying, planning, recommending, and installing the new system. I can already feel quite a difference in the comfort level in our home. Thanks to Mass SAVE, we were able to finance the system interest free due to the recommendation of Norm Provencher…"
Don and Sheree N.
Chelmsford MA
"Great Job!! Cliff and Al were very professional and did a great job with our new system installation. They took pride in their work."
Mike B.
Westford MA
"The installation techs were outstanding, the work exceeded our expectations. Our home (inside and outside) was as clean as when they started."
Moe and Pauline P.
Westford MA
"Nate was so friendly, so professional, so thorough. He was a pleasure to work with when he installed our new AC!"
Michelle S
Concord MA
"Al and Nate did an excellent job with the installation. Norm was very knowledgeable and expert."
Yehia B
Groton MA
"Your installation team was very knowledgeable and went above and beyond to accommodate my family during the project. With a 3 year old at home all day, they made sure the site stayed clean and safe. Kudos! Scott MacIntyre was excellent. Derek and Nate were great as well."
Rachel Z
Chelmsford MA
"I always thought that Amy Williams was part of the Wilson Brothers family, given that she always responds in a friendly, compassionate, and responsible way. What a surprise to find out that she is not a family member, but is instead, a very valuable asset to your firm."
Janice B.
Harvard MA
"From the initial estimate to the final install and follow up, the Wilson Brothers team was extremely professional, efficient, knowledgeable, and so easy to deal with. The office staff were all very pleasant, and Paul's team of installers were polite, clean, and proficient during installation. Great Customer Service Wilson Brothers!"
Dave and Anne Z.
Heat Pump Installation, Groton MA
"Very knowledgeable and professional. Answered all questions in laymen's terms and double checked with us on all plans. Crew was always neat, polite, and professional."
Phillip and Mary Ellen M
Acton MA
"They (Nate and Al) were AWESOME! Extremely happy with the work installing the on-demand water heater."
Kathleen O'
Westford MA
"Always excellent service!! Everyone is knowledgeable and great problem-solvers! Eric and Dan, also Michael – great for repairs."
Lisa M
Chelmsford MA
"Scott was polite, intelligent, concerned and led the other installer with respect. He took time to explain everything."
Scott S
Acton MA
"Great guy (John), appears to know what he is doing, makes the client very comfortable."
Bill D
Harvard MA
"Eric was really wonderful!"
Valerie S
Concord MA
"Just wanted to let you and the other folks at Wilson Brothers know that my wife and I are extremely pleased with the installation by Scott and Derrick. I don't know that it could have gone any better!"
Phillip and Mary Ellen M
Acton MA
"Scott and Deric were both polite, respectful and worked hard. They were both clean and neat in appearance. Thank you"
Mary Z
Carlisle MA
"Thank you again for your excellent service and extremely enduring patience … I have to tell you how much I appreciate all that you have done for us that makes our lives comfortable. You are all the best!"
Bill Z
Westford MA
"We have been receiving services from Wilson Brothers since we moved into our home in 1999. They are always on time, friendly, and great about explaining repairs or new devices. A+++ Keep up the great work!"
Karen T
Pepperell MA
"Thank You again to Wilson Brothers!!!! After 3 days of no power (freak Oct/Nov storm) and finally having it restored – discovered we had no heat! Put a call in for service. From the phone call with a very helpful Amy, to your Technician Mike (what a great guy!) – heat was restored within an hour. It is such a comfort knowing that when a situation like this comes up (especially with an elderly person living in the home) that I can ALWAYS rely on Wilson Brothers."
Carol P.
Pepperell, MA
"I lost my upstairs heat late last night (brrr…) and called Wilson Brothers. They came out promptly as always, did a fantastic job and didn't rob me blind. I always get a tutorial while they work, which helps me to fix problems myself from time to time. I've been using them since we built here in 2001 (they installed our 5-zone HVAC/2 oil tank systems) and wouln't use anyone else."
Meghan V.
Groton MA
"I'm writing you so you can say, 'I told you so.' As you know I decided to go with one of your competitors, because they were lower on their quoted price for our a/c system. WHAT A MISTAKE THAT WAS! The job was a disaster. I found out later that the company put in the wrong size air conditioner, didn't properly wrap or seal the ductwork, and wired the air handler unit incorrectly. Thank you for coming to our rescue and doing the job for us. The new system that Wilson Brothers installed works perfectly. I should have listened to you and gone with Wilson Brothers in the first place. It would have saved us a lot of money and aggravation. Thanks again for saving us. I promise we won't use anyone else ever again! A lesson learned the hard way,"
Peter & Lori M.
Chelmsford MA
"It is refreshing to do business with a company and its personnel who are honest and trustworthy."
Apple Meadow Hardware
Townsend MA
"During the entire process of design, installation, and clean-up, I have been totally impressed by all of your people. Your outstanding craftsmanship, commitment to quality, and meticulous attention to details are clearly evident in your work."
Steve S.
Acton MA
"All the technician were outstanding, prompt, courteous and knowledgeable. The installation crew left a positive attitude even when faced with deep snow."
Dwight B.
Hollis NH
"Thank you for making us a priority – great customer service!"
Julia V. – N.
Chelmsford MA
"Thank you for the great job you did installing our heating system. From the first day we spoke, until the time when your people finished and cleaned up, it was a very pleasurable experience. The fire inspector even commented on the nice, neat job you did! Thank you again."
James H.
Tyngsborough MA
"Techs on-site and phone staff are very pleasant and good to work with."
John C.
Westford MA
"From the original installation to the early tune-ups, everyone at Wilson Brothers is professional and friendly."
Linda A.
Bolton MA
"Just the kind of people who are a pleasure to have working in your home."
Jean D.
Andover MA
"Wilson Brothers was very professional, knowledgeable and great to have in my home. They were quiet and totally non-disruptive. You have me for life!"
Ellie C.
Harvard, MA
"Building a new home is a tedious, stressful process. Wilson Brothers is the ONLY company we enjoyed working with. Keep up the great work! Thanks again."
Paul V.
Groton MA
"Excellent workers, cleaned area better than it was when they arrived; very professional in conversation even with each other. Job looks neat and finished"
Carol Z.
Pepperell, MA
"Where do you get men like these? They were capable and hard working, no short cuts and finished clean. The furnace and water heater work like a charm. Well done!"
Frank M.
Concord, MA
"The service and installation were professional. The crew showed up on time and the job was finished ahead of time. All employees that I interacted with were very helpful. I'm happy I went with Wilson Brothers"
Ellen P.
Groton, MA
"We have hired many, many, companies and they were by far the best workers"
Bruce & Pat M.
Sudbury, MA
"Where do you get men like these? They were capable and hard working, no short cuts and finished clean. The furnace and water heater work like a charm. Well done!"
Frank M.
Concord, MA
"This was a wonderful experience – everything happened on time, according to schedule, and there were no surprises. They answered all our questions and showed us how to operate our new system"
Ellen & Robert H.
Hopkinton, MA
"They did an excellent job at installing the new system. Was a pleasure to have them do the work"
Joel P.
Nashua, NH
"Professional hard workers who adapted to existing site conditions well; finished ahead of schedule"
John W.
Ayer, MA
"Thank you so much for the excellent service on our air conditioning system. The technician did a spectacular job; He had such patience and determination to solve our problem once and for all. He did just that and we are so pleased. He is a professional and a credit to Wilson Brothers"
Dave P.
Groton, MA
"Everyone was exceptional. Thank you for realizing the importance of customer service in an age where we seldom see that"
Deborah & Michael K.
Chelmsford, MA
"Both men worked well together. Highly recommend Wilson brothers"
Woodrow P.
Bedford, MA
"All your employees that I have dealt with have been courteous, professional and a pleasure – made my decision to change a lot easier"
Les L.
Nashua, NH
"Can not emphasize the quality enough, everything was A+"
Gordon P.
Chelmsford, MA
"The technician mentioned that I needed to call the office to set up a routine tune up. I called and left a message and when they called me back they mentioned that the technician had called in and told them what I needed. I was really impressed that he took the time to do that"
Nestor M.
Chelmsford, MA
"The two technicians doing this installation were very professional, courteous, and knowledgeable. They were also very careful of our property and cleaned up well after each workday. Great team!"
Fredrick O.
Marlboro, MA
"The technician took time to explain the problem and worked diligently to fix it. Outstanding service can be a cliché but is an accurate in this case!"
Lucy B.
Pepperell, MA
"Wilson Brothers HVAC was outstanding!"
Kerry C.
Lincoln, MA
"The installation team was superb! They had to withstand the heat of our attic on 90°+ days and never complained. They still provided the best service and were courteous and professional. Great job! If all companies worked and operated as smoothly and politely as Wilson Brothers, I would be one happy homeowner. Exceptional service!"
Jennifer L.
Billerica, MA
"Your team was wonderful and your ability to get the job done was priceless"
Jen and Mark D.
Carlisle, MA
"The technician conducted himself as a professional; constantly keeping us informed as to what he was doing and needed to do. He was courteous at all times. He is a credit to your company. He even called the next day to make sure everything was working to our liking, Unheard of in this day and age!"
Helen M.
Townsend, MA
"An extremely professional organization, knowledgeable and consistently keeping the customer informed throughout the process of a quote, layout, installation and follow up after system fire up"
Al B.
Littleton, MA
"The overall responsiveness of your entire organization so far exceeds the other HVAC companies I've contacted, so that there really is no competition"
Robert C.
Concord, MA
"Each of the men who worked on this project was highly professional, polite, neat in appearance, and pleasant. We are very pleased!"
Pat and Charles D.
Concord, MA
"Wilson Brothers arrived when they said they would, quoted me very promptly (same day!), installed equipment when promised and did a beautiful job. I have done quite a bit of technical work in the past, so I can say that their professionalism, workmanship, and friendliness have been unsurpassed. Very refreshing in this day and age"
Noel R.
Westford, MA
"I am very impressed and pleased with whole process and service. Now I know who to call if there is any HVAC problem in the future. Thank you"
Sung K.
Acton, MA
"The technician conducted himself as a professional; constantly keeping us informed as to what he was doing and needed to do. He was courteous at all times. He is a credit to your company. He even called the next day to make sure everything was working to our liking, Unheard of in this day and age!"
Helen M.
Townsend, MA
"I just wanted to write and say thank you so very much. My heater went yesterday after a wild rain storm and wouldn't work. Someone was going to come out to fix it but we realized the pilot light was out and the technician walked us through the steps of relighting it over the phone. He easily could have come out and charged us lots of money which most companies do but he didn't. I have been using Wilson Brothers for 15 years and have be always found that you really care about your customers and not just your pockets. I have always had a technician find the least expensive way to fix something versus making more money while not jeopardizing the quality. Thank you, I would recommend Wilson Brothers to anyone and will continue to always use you"
Lindsey M.
Merrimack, NH
"I am a first time customer. It was nice to have a professional person answer the phone, and it was great having a technician that really knows his stuff. I will be a repeat customer because of him!"
Skip R.
Tyngsboro, MA
"The technician was terrific! He explained everything thoroughly, pointed out potential problems down the line and even invited me to watch him work, awesome Job!"
Jeff G.
Groton, MA
"Work was done beyond expectation and professionalism. Area was left clean and neat. We are very pleased with Wilson Brothers"
Peggy S.
Maynard, MA
"The technician was neat, efficient, knowledgeable and friendly. If he wasn't running out to another call I'd have sat him down for a cup of coffee"
Beverly N.
Townsend, MA
"Service has been terrific and very responsive to our problems"
Larry & Marilyn L.
Hollis, NH
"Very happy with the heating and cooling system you installed; done very neatly. Wilson Brothers is great!"
Rick S.
Westford, MA
"Wilson Brothers was very polite and personable. They explained what they would be doing, there was no bad language, and they respected my property. I wish more businesses valued their customers like you do"
Nancy A.
Acton, MA
"The installation was excellent. It was expertly done with minimum disturbance of our domestic water needs. It was a neat job up to the final vacuuming which prompted my wife to exclaim: 'I should have married a plumber.' That says it all."
Andre D.
Concord, MA
"The installation was great, everything was done in a timely manner and the crew was very professional and friendly. I am completely satisfied with the work that was done"
Pascal R.
Littleton, MA
"Prompt service even though I was a new customer"
Michael C.
Pepperell, MA
"I cannot thank you enough for coming to the rescue again! A weekend morning of waking up with no heat and I put in an emergency call for help. I cannot tell you what a pleasure it is to deal with Wilson Brothers."
Carol P.
Pepperell MA
"My new system was thoroughly explained to me before the install crew left. They were patient with my neighbors' questions and were very courteous"
Carmine S.
Tewksbury, MA
"This was our first experience with Wilson Brothers. Although it was only for maintenance we were very pleased and plan to use you in the future."
Ed & Margaret M.
Harvard, MA
To Wilson Brothers: Thank you for your very generous donation to PACH Outreach. Your donations and continued support are the reason we can help our neighbors in need. This donation helped to fill our holiday packages and much more. We are blessed to be a part of a community that is so generous toward the needs of our neighbors. Thank you for being part of that community!
Ellen Castellano
PACH Outreach Volunteer
Wow! What a nice surprise. We were pleased to recommend your services to our neighbors, the Kwon's. We love our Mitsubishi ACs and expound the neatness and professionalism of your installation process.
Moe and Pauline P
Westford MA
Great experience from Norm in sales through install and finance! I'll be a Wilson Brothers customer "for life."
Ben H
Boxborough MA
Dear Wilson Brothers: We want to thank you from the bottom of our hearts for your generous donation of time and labor to take care of the maintenance of our heating system. It was such a kind gesture and we wanted you to know how much we appreciated it!
The Staff and Seniors at the Pepperell Senior Center
Dear Wilson Brothers: Thank you for your support of the North Middlesex Scholarship Foundation. Your generosity is greatly appreciated. The donation you provided was awarded to a North Middlesex Regional High School graduate for continuing education after high school. We are grateful to you and appreciate your continued support.
NMRSD Scholarship Foundation Committee
Dear Tom: On behalf of our Board of Trustees, volunteers, staff, and especially the clients of Loaves & Fishes Food Pantry, Inc., I would like to extend my appreciation to you for your recent donation. … last year we assisted over 900 households. Each time we are open, we distribute approximately 5,700 pounds of food! Your4 gift is crucial in ensuring that we are able to continue providing this service to the communities of Ayer, Devens, Groton, Harvard, Littleton and Shirley.
Patricia A. Stern
Executive Director, Loaves & Fishes Food Pantry, Inc.
Certified Electrician, Certified HVAC Contractor & Certified Plumber

Dunstable, MA, Townsend, MA, Fitchburg, MA, Groton, MA & Pepperell, MA
Certified HVAC Contractor in Groton, MA | Certified Electrician Townsend, MA | Certified Plumber Dunstable, MA
Certified Electrician

∴

Certified HVAC Contractor

∴

Certified Plumber ∴ Dunstable, MA ∴ Pepperell, MA ∴ Fitchburg, MA